Product Center Product Center
Contact Reapter
mailto:info@reapter-phe.com
Location:No.1567,Wangsha Road,Xifuzhen Sub-district, Chengyang District,Qingdao City, China.
Product introduction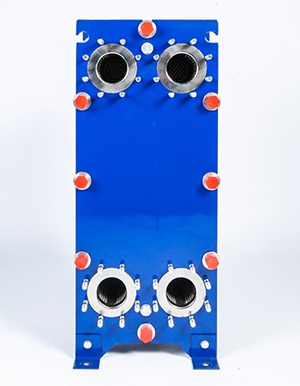 The semi welded plate heat exchanger is composed of a pair of plates, and each of the two plates is laser welded to form a pair of plates. It is sandwiched between the fixed pressing plate and the movable pressing plate in a superimposed manner. The mesh contacts are formed between adjacentplates and supported by each other, and the rigidity of the plates is remarkably enhanced. Our semi welded plate heat exchanger adopts advanced laser welding technology, which has the advantages of small welding deformation, small residual stress and high quality.Qingdao Ruipute has advanced welding technology, especially for the first time to achieve the welding technology of special materials such as titanium, we are at the domestic leading level in developing and manufacturing semi-welded titanium plate heat exchange equipment.
The cavity of the pair of plates forms a pass of a medium; the two pairs of plates are sealed by a sealing gasket which is resistant to corrosion, high temperature and high pressure, and constitutes another medium pass; the two mediums flow evenly in a countercurrent way in the adjacent channels to complete the sufficient heat exchange process. This structure ensures the stability of the welded plate pairs, providing easy maintenance of each pair of plates. It has the characteristics of high safety, high heat transfer efficiency, long service life and easy maintenance. It is suitable for cooling and chemical treatment. It is the ideal alternative equipment to shell and tube heat exchanger and all welded plate heat exchanger.Especially suitable for evaporation and condensation of ammonia coolants,as well as chemical treatment of corrosive liquids.
Maximum volume:5000m3 /h; Maximum design pressure:25bar
Maximum temperature:150 celsius degree; Minimum difference in temperature:0.5-1celsius degree
Nozzle diameter:DN15~DN500; Plate thickness:0.5mm - 1.2mm
Gasket material:NBR, EPDM, HNBR, HT-NBR, HEPDM,CR,VITON/FKM
Fixed and movable plate material: Carbon Steel, Stainless Steel, and others on request.
Plate material:AISI304, AISI316, AISI316L, Titanium,Ti-Pa,Hastelloy C276,254SMO, Nickel, AISI904L.
Characteristics
The semi welded heat exchanger has the general characteristics with shell and tube heat exchanger, and yet have other features like
Small amount of irrigation

The special medium has a small amount of irrigation, which is conducive to environmental protection and lower operating costs.
small volume

The tube pass and shell pass of the shell and tube heat exchanger is very large, to make the system work normally, it must be filled with a large amount of medium, and it may also cause environmental pollution. The semi welded plate heat exchanger have a small size.On the other hand, the pitch size is also small.
Cooling pipe network capacity

Low freezing tendency and high antifreeze performance (ammonia refrigeration application) The semi welded plate heat exchanger can make the fluid produce ice crystals, which is similar to frost, and is stable in this state.It can increase the capacity of the district cooling network without increasing the size of existing pipes. Due to the low flow rate of water, high-speed turbulence can be formed in the plate heat exchanger, and the temperature distribution is very uniform, thereby reducing the freezing tendency of the chilled water. Even if it is frozen, it is more able to withstand the pressure generated by freezing, and can continue to be used after frozen, unlike the shell and tube heat exchanger, which is easy to burst.
Product Display
Semi welded plate heat exchanger

Semi welded plate heat exchanger

Semi welded plate heat exchanger
Range of application
Ammonia refrigeration, sulfuric acid, caustic soda, petrochemical, metallurgy, machinery, pharmaceuticals, food etc.
Purchase:
Semi welded plate heat exchanger
*Contact person:
*Mobile phone:

Company name:

Email:

电话:

地址:

*Purchase intention:
*Verification code: