Can grain and oil industry plate heat exchangers be replaced by plate and shell type? The answer is right here
The rapid growth of China's population has greatly contributed to the development of the food industry. People are food, all food must be safe and hygienic, supporting the use of grain and oil industrial plate heat exchanger came into being.
Grain and oil industry plate heat exchanger with high heat transfer efficiency, small footprint, simple installation and maintenance, etc., the use of more and more widely. But many people are not particularly clear whether the plate and shell type to replace the plate type, the following we will compare. Plate type equipment internal supporting rubber strip as a seal, so the selection of rubber strip requirements are very high, the original rubber, carbon black, auxiliary agents, etc. need to meet national food safety standards; and in the later use process, due to the characteristics of the rubber strip itself easy to age, but also need to be regularly replaced maintenance, increasing the cost of investment. While the plate and shell type is the overall fully sealed welded structure, no internal rubber strips, can withstand high temperature and high pressure, but also no need to replace the rubber strips, greatly saving operating costs.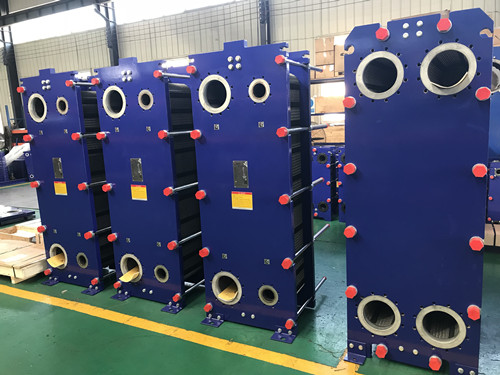 Although they have so many differences, but in the actual use of the process, the grain and oil industry plate heat exchanger and plate and shell type are playing a huge role, it can be said that they both have a lot to offer. Qingdao Ripert production of heat exchanger equipment are used in international quality raw materials, European and American brands of design selection software design, workshop workers have more than twenty years of manufacturing experience, the industry has won a good reputation inside and outside.