New plate heat exchanger units were added to the Lab to provide data support for technology upgrade
When analyzing Alfa Laval, the leading enterprise in heat exchanger industry, and Gislaved Gummi, the company with the largest market share in rubber gasket manufacturing industry, we find that they all have one common characteristic, that is, they have strong R&D strength and will continue to upgrade production technology. Compared with the domestic heat exchanger industry, although there are many heat exchanger manufacturers in China, only a few of them have a team of senior engineers who can constantly improve the innovative technology. From the above analysis, foreign manufacturers are constantly doing experiments and optimizing and upgrading production processes and solutions according to many complex working conditions they are exposed to. And domestic manufacturers, there is no R&D team to use the production technology for a decade as a day, or the company several operating workers looked at the point of production, everyone will accept the opinions of the new way to operate, which is not a virtuous circle of the company's development.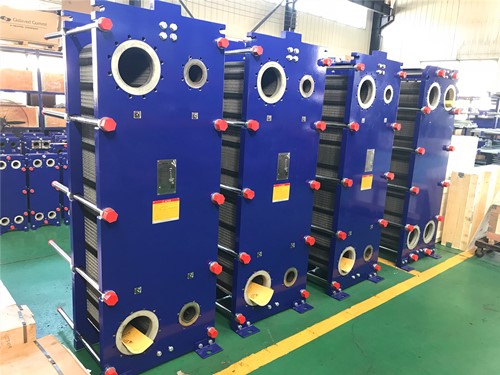 Plate heat exchanger
The importance of the R&D team, at the beginning of alfa Laval's positioning stage, is one of the two departments the company focuses on. The other is the sales department. For more than 100 years, Alfa Laval has exerted a profound influence on the development of the company by adhering to research and development, testing of various working conditions in various industries, and simulated operation data.
The production plant of Ruipute heat exchanger is located in beautiful Qingdao, and the R&D base for R&D and experiment is also very bright in the factory area covering more than 1000 square meters. The R&D team, consisting of senior engineers with over 20 years of experience in the industry, continuously develops the R&D chain of production, experiment, technology upgrade and operator training into the most important link in the sustainable development of the company. In June 2020, The R&D base of Rupert welcomed a "new friend", who could conduct simulation experiments for complex conditions, collect data, and conduct comparative experiments with leading international brands, so as to find gaps in the data and carry out targeted technological upgrading.
Isn't the data, in conjunction with the rest of the lab, more convincing than just saying, "Our products are good"?
Qingdao Ruipute use of raw materials and the alfa Laval from the same manufacturer, production technology and alfa Laval, GEA synchronized to upgrade, products exported for 13 consecutive years, with a selection of 20 years of industry experience, senior engineer design, production technology research and development, can better solve the problem of customer's real existence, is the direction we have been pursuing and continuous efforts.