Shandong production of titanium palladium, Hastelloy alloy, 254SMO, nickel plate and other plate heat exchanger plate manufacturers
Friends familiar with this field should know, such as titanium palladium, nickel plate and other special materials, titanium palladium is generally used in higher than 100° operation, high Cl ion content solution, nickel plate is mostly used in high temperature and high concentration ......Because of the specificity of the price.That you only know one do not know two, the processing and manufacturing technology of special material, also very exquisite.
Features are less malleable than stainless steel, meaning that when pressed, they are affected by the depth of the Ruipute.If the suppression is not good, the light is not evenly diluted, plate easy to corrosion;Or direct rupture in the pressing process.But some deep groove of the special working condition, no special material is not enough, so this time, "film suppression" on the stage.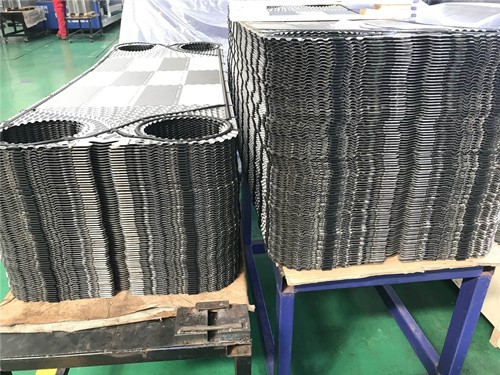 When the use of double-sided coated press, there is a gap between the plate and the press, so that when the press operation, go more uniform, lubrication, plate shrinkage, not easy to press uneven, more not easy to crush.
But it's no craft secret, so how does Rupert stand out? Is simple:
1. The raw materials purchased are the best imported materials: titanium -- Nippon Steel of Japan, Hartford Alloy of America, 254 SMO -- topology of South Africa...
2. Mold: Only when the plate is thick enough can the mold be more beautiful. For the mold produced by Rupert, the pressed plate precision can be controlled within 0.05-0.1mm, which is 2-4 times of the national standard, so that the dilution is very uniform.
Rupert welcome buyers to visit the site, product accessories test!