The low-temperature waste heat recovery plate heat exchanger of the oil refining unit replaces the shell-and-tube heat exchanger with good results
Problems with shell-and-tube
heat exchanger
s: powdery solid particles, blockage of crude oil, and scaling on the side of circulating water and fresh water. After replacing the plate heat exchanger, two sets of waste heat recovery systems save 2.76 million yuan per year.
In the low-temperature waste heat recovery system, the heat source of the low-temperature waste heat recovery plate heat exchanger of the oil refining unit is the waste heat of the catalytic cracking, hydrorefining, etc. The heat use channels are power generation, gas fractionation, crude oil tank area, and boiler water waste heat in the living area.
A whole set of waste heat recovery system has been using shell-and-tube heat exchangers (six units) before. During operation, the heat exchanger found that the heat exchange efficiency was not high, and the heat energy recovery was not ideal, which is manifested in the large temperature difference between the cold and hot water at the outlet of the heat exchanger and circulation.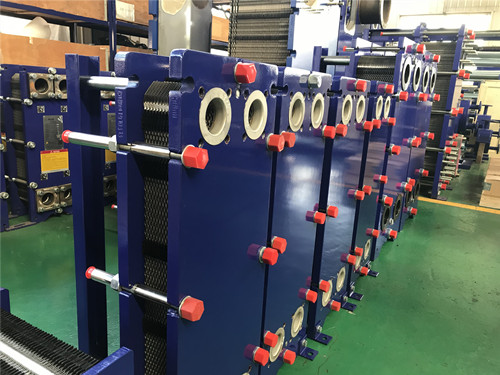 The water consumption exceeds the design value but the temperature still does not reach 50?, and the demineralized hot water with oil heat exchanger is blocked soon after the production line runs, the heat exchange capacity decreases, the low temperature water temperature continues to rise, and the pipe is corroded and perforated.
Caused to stop production.
When the design plan was upgraded, the six shell-and-tube heat exchangers were replaced with plate heat exchangers in several times. The heat exchange area was changed from 210 square meters to 130 square meters, which not only reduced the overall size, but also reduced the area occupied by the waste heat recovery station.
The heat exchange efficiency of the heat exchanger has been greatly improved.
This is just a technical upgrade of the entire waste heat recovery device for desalinated water, circulating water and fresh water. In the next article, let's talk about a specific example of the replacement of another system of plate heat exchanger in the low-temperature waste heat recovery device in the oil refinery.