Semi welded plate heat exchanger production and manufacturing "- Science and technology is still the first productivity!
Due to the mature process, easy preparation and low cost of synthetic ammonia refrigerant, it is widely used in the refrigeration industry. As one of the media in the refrigeration industry, it has special chemical properties such as flammability and toxicity. When using ammonia refrigeration, it has high requirements for plate heat exchanger. In order to solve the ammonia leakage problem of plate heat exchanger, Alfa Laval developed a semi welded plate heat exchanger.
However, Alfa Laval is expensive. For ordinary domestic industrial enterprises, the cost of purchasing this semi welded plate heat exchanger is too high, which needs to be considered repeatedly. With the maturity of Qingdao Ruipute semi welded plate heat exchanger production technology and the widespread application of products, it has solved the problems for thousands of enterprises.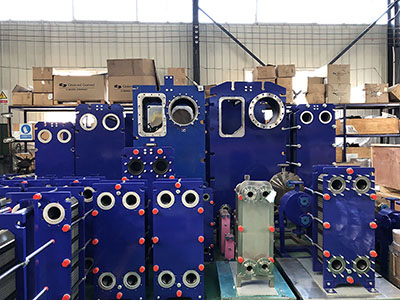 Qingdao ruipute has always adhered to the principle of quality first. In order to produce products with the same quality level as Alfa Laval, the requirements for raw materials are also very high. We need to buy stainless steel manufacturers with foreign investment background, which have the same origin with Alfa Laval, and even the precision of Alfa Laval mold can reach ± 0.05 ~ 0.1mm, which is higher than the national standard precision. The company's production technology has been improved Mature, fully automated laser welding, high stability, products through CE, ASME system certification, technology and Alfa Laval synchronization.
Since the establishment of the company for 13 years, Qingdao Ruipute heat exchange equipment manufacturing Co., Ltd. has been committed to the production and sales of high-quality and high value-added products. With its excellent quality, it has won the unanimous praise of customers at home and abroad. "Science and technology is the first productivity, innovation is the first driving force leading the development". For our manufacturing enterprises, it is necessary to master the production and innovation, which is our ultimate goal. If you have any requirements or problems about semi welded plate heat exchanger products, you can contact us at any time. We warmly welcome your consultation!