Common methods for replacing plates and sealing gaskets in plate heat exchanger manufacturers
Despite the many advantages of plate heat exchangers, replacement of plates and sealing gaskets is inevitable. Because it is very convenient to use: small size and high heat exchange efficiency. However, due to long-term use, there may be internal fouling or other leakage problems, which are inevitable.
Therefore, in order to avoid these conditions, we must often replace the internal plates and sealing gaskets, which not only improves the utilization rate, but also ensures the stable production.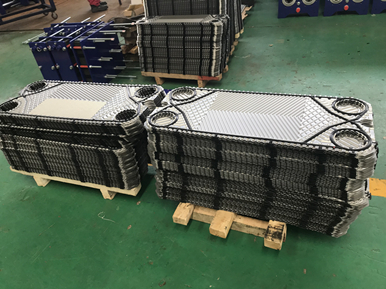 The method proposed by the engineers of Shandong Large-scale Professional Plate Heat Exchanger Qingdao Ruipute Heat Exchange Equipment Manufacturing Co., Ltd. to replace the heat exchange plate and sealing gasket correctly is as follows:
1. When disassembling used gaskets or plates, care should be taken to prevent scratches in the rubber gasket groove.
2. Use acetone, methyl ethyl ketone or other ketone solvents to remove the residual glue in the rubber gasket tank, so that there is no residue in the tank.
3. The gasket groove and gasket should be cleaned with a clean cloth or cotton yarn.
4. Apply the adhesive evenly in the rubber gasket groove and stick a new adhesive gasket.
5. The plate with glue gaskets should be placed in a flat, cool and ventilated place and allowed to dry for 4 hours before use.
The specific steps are the above five. This is the replacement method often used by plate heat exchanger manufacturer Qingdao Ruipute Heat Exchange Equipment Manufacturing Co., Ltd. The advantage of this method is that after replacing the rubber gasket and heat exchange plate, the efficiency can be obtained Effectively promoted, the service life becomes longer, and good accessories can boost the equipment's power, so that the entire production process becomes smooth and orderly.
Don't worry about not replacing the heat exchange plates and sealing gaskets. After reading this article, I believe you will be replaced correctly. It's time to show your practical ability. If you have any other questions about PHE, please call us, We will handle it for you.