Haier new materials use Ripute small plate heat exchanger case
Client Name: Qingdao Haier New Material Development Co., Ltd.
Product: Small plate heat exchanger
Specification parameters: FDN40D
Customer equipment: extruder
Established in April 2001, Qingdao Haier New Material Development Co., Ltd. is located in Jiaozhou city Haier International Industrial Park. It is an expert in the research, development, production and sales of high-performance modified plastics. The company introduces the world's advanced level extrusion line and fully automatic.
Customer usage:
The customer started to contact us in 2016. The main problem of the reaction is that the cooling of the circulating water is prone to scale formation. The product is mainly used on extruders. Before contacting us, the customer encountered such problems many times and changed many heat exchangers. The effect was not particularly satisfactory, which seriously affected the progress of production and the utilization of waste heat.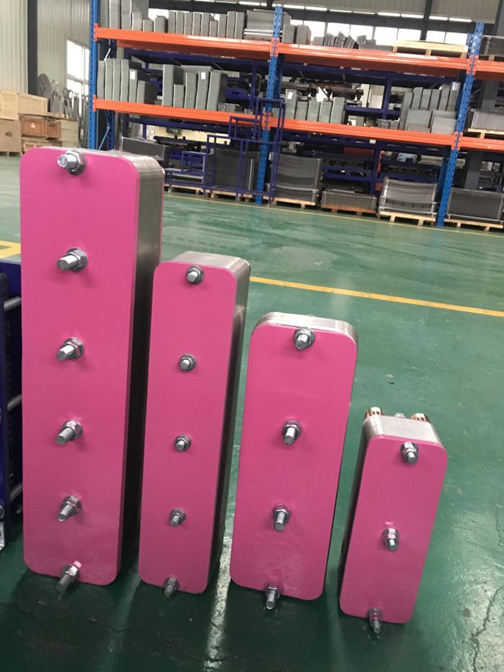 After a comprehensive analysis of the customer's working conditions, water quality, and usage environment, we designed a special FDN40D small plate heat exchanger for the customer. This plate heat exchanger is the ideal equipment for liquid-liquid exchange. The utility model has the advantages of high heat exchange efficiency, small heat loss, compact and light structure, small occupied area, convenient installation and cleaning, wide application and long service life. In the case of the same pressure loss, the heat transfer coefficient is 3-5 times higher than that of the tube-and-tube heat exchanger, and the floor space is one-third of the tube heat exchanger, and the heat recovery rate can be as high as 90% or more.
After seeing our analysis and design, the customer is very satisfied and is looking forward to the production of the product. In order to solve the problem to the customer as soon as possible, we arranged for the workers to concentrate on the production of the batch of heat exchangers. Soon the customer received the product and conducted the installation test. After running for a while, the customer called and excitedly told us that their problem of fouling and plugging was completely solved and our service was carried out. praise.
Since the first successful cooperation, customers have a stable order every year. We believe that we can win more markets by continuously improving product quality and service details.
REAPTER is a high-tech enterprise, engaged in the research and the development on professional safety vest and its production. We have professional R&D team, heat exchangers application experience, providing plate & gasket for heat exchangers oem services.