GEA plate heat exchanger plates with high precision and wide range of models
GEA plate heat exchanger plates models are abundant, mainly including two parts, one is VT series, one is NT series, and the others also include free flow plate type, which can be applied to different working conditions.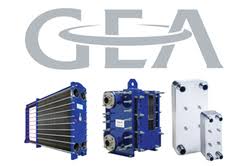 The GEA VT series mainly includes:
vt04, vt40, vt80, vt20, vt405p, vt80p, vt2508, vt10, vt40(m), vt80m vt205, vt20p, vt405, vt805
GEA NT series mainly includes:
NT50M, NT150L, NT350, NT50X, NT150S, NT350M, NT100T, NT250S, NT100M, NT250M, NT50T, NT100X, NT250L.
Other models are available such as N40, AT405, FA184.

GEA plate heat exchanger plates are designed with an inventive combination of horizontal and vertical corrugations, which take full advantage of the width and length of the plates, good fluid distribution, reduced pressure drop and maximum heat transfer efficiency.
When it comes to any product, there is no exception that anyone would like to have a high cost performance ratio, and GEA plates are designed from the very beginning to make full use of the plates, scientific design, so that the plate heat transfer area to reach the maximum optimization, so that the use of a smaller area in exchange for full heat transfer efficiency.
Qingdao Ruipute has precision presses and large vulcanizing equipment, and the plates produced are of high precision, using the same production process and raw materials of international brands, so that they can completely replace the original plate.
GEA plate heat exchanger plates can be used in a wide range of applications in the HVAC, sugar, paper, power, chemical, refrigeration, marine, food and beverage, and renewable energy industries.