What factors to consider when designing a plate and shell heat exchanger?
Now the application of plate and shell heat exchanger more and more widely, so do you know the plate and shell heat exchanger in the design of the time to pay attention to What about some places? The following authors are here to explain.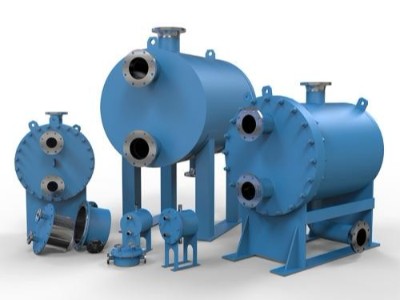 1. Small temperature difference
Due to the high heat transfer coefficient and strong turbulence of the plate and shell heat exchanger, the flowing heat exchange in the heat exchanger can make the heat exchanger The temperature difference between the first and second hot water is very small, and sometimes the temperature difference can be close to 1 ? ~ 3 ?. This can make the thermal efficiency is greatly increased, improve the economy of heat transfer equipment.
2 .Small heat loss
Since the edge of the sheet and the surrounding gasket are exposed to the atmosphere, heat loss is minimal, generally about 1%, and no insulation is required. measures. For the same heat transfer area, the heat transfer loss of the shell-and-plate heat exchanger is only 1?5 of that of the shell-and-tube heat exchanger, while the weight is less than that of the shell-and-tube heat exchanger. Half of the type.
3. Highly adaptable
On the one hand, when assembling the heat exchanger, it is easy to increase or decrease the number of heat transfer plates according to the output and process requirements. Rearrangement, process combination re-selection. On the other hand adaptability is also shown in its use, the plate and shell heat exchanger is widely used, currently in chemical, mechanical, cement, petroleum It is used for heating, cooling, evaporation, condensation, waste heat, and heating, etc. The application is widely used in a variety of engineering fields, such as power, hot water heating, etc. Recycling and other processes, through the plate and shell heat exchanger in the medium of the heat exchange to achieve the purpose of application.
4. Flexible operation, easy maintenance
Both the heat transfer plate sheet and the movable compression plate are suspended from the machine's beam, with a rolling device above the compression plate, which makes it easy to open the equipment for cleaning and to remove a plate for inspection or gasket replacement.
The above is the author's introduction to the plate and shell heat exchanger in the design of some of the factors to consider, I hope it can help you, if you still have other aspects want to understand, you can come to consult us.